Innovation & Excellence Award
In 2011, Huntingdale was awarded the Curriculum Innovation Award as part of the Victorian Education Excellence Awards for our work on Inward Reflection – Outward Connection.
The Award recognised the work done by all staff across our school. The focus of the Award was:
'The highly innovative and reflective Bilingual teaching and learning at Huntingdale showcases best practice in second language learning. It provides students with skills, knowledge and understandings of learning in and through two languages. With a focus on English and Japanese bilingualism, the school is dedicated to support children to become global citizens, by instilling a deep understanding of culture and fostering an international perspective in which children see similarities before they see difference. This Award will enable us to further research Bilingual school systems and the underpinning teaching and learning and school organisation that optimise learning outcomes in two languages.'
The award enabled us to explore effective literacy practice in bilingual and multilingual settings and participate in the Intercultural Understanding Field Trial. As a result of this award our in-house Literacy Coaches up-skill staff on a regular basis based on their 3-5 year plan for school improvement. The whole school now has a shared understanding of intercultural understanding and awareness and how to cater for this at developmentally appropriate levels across the school.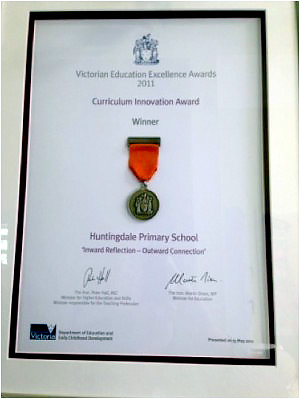 Our Curriculum
21st Century Curriculum
In the 21st century, Australia's capacity to provide a high quality of life for all will depend on the ability to compete in the global economy based around knowledge and innovation. Education equips young people with the knowledge, understanding, skills and values to take advantage of opportunity and to face the challenges of this era with confidence. The Melbourne Declaration on Goals for Young Australians (December 2008) acknowledges that major changes in the world are placing new demands on Australian education.
Early Years Literacy and Numeracy: Foundation to Year 4
At Huntingdale our Literacy and Numeracy Programs are based on extensive research underpinned by our beliefs that:
All children can succeed given sufficient time and support
All children have the right to be challenged and supported to achieve their potential
Early literacy success has a positive and significant effect on success in all areas of learning
A comprehensive whole school approach has been developed providing:
Highly differentiated Literacy and Numeracy Programs
A daily two hour Literacy block and one hour Numeracy block
Highly effective school-wide assessment processes to identify and monitor the progress of every student
Weekly team meetings to plan strategies to continually challenge and support each and every student
Infusion of thinking skills and technology tools to provide further challenges and stimulate learning
Provision of individual Literacy intervention support through our Bridges and Mid Literacy Support Programs
Extensive additional English as an Additional Language (EAL) support through our Head Start Program for children entering school whose first language is not English
Specialist trained Maths /Science teachers to extend mathematical thinking in Years 2 to 6
Your content goes here. Edit or remove this text inline or in the module Content settings. You can also style every aspect of this content in the module Design settings and even apply custom CSS to this text in the module Advanced settings.
eLearning
Innovative and effective use of Information Communication Technology (ICT) will support our challenging and dynamic learning environment that equips students with the skills to be active and successful members of the 21st century global society. Technology is embraced by the school community and the school educates students and families in regard to cyber safety. Since 2013, we have focused on developing our whole-school understanding of responsible and safe online interactions in accordance with the eSmart Framework. As a result, Huntingdale Primary School has achieved the status of an eSmart School in 2017.
Appropriate investment in infrastructure will transform pedagogy, empower teachers and support staff to focus on student-centred active and interactive learning as well as facilitate higher order thinking. We support flexible teaching methods and aim to cater for different learning styles through the integration of technologies.  All of our teaching and learning programs infuse some form of technology with all classrooms being equipped with Interactive Whiteboards or Apple TVs. Personal computers, netbooks and iPads are provided in classrooms as tools to create, collaborate and communicate.
The ICT team has been working towards increasing interactive communication among teachers, parents and students. Grade 3-6 students have their own Edmodo account to work on online individual and group tasks.